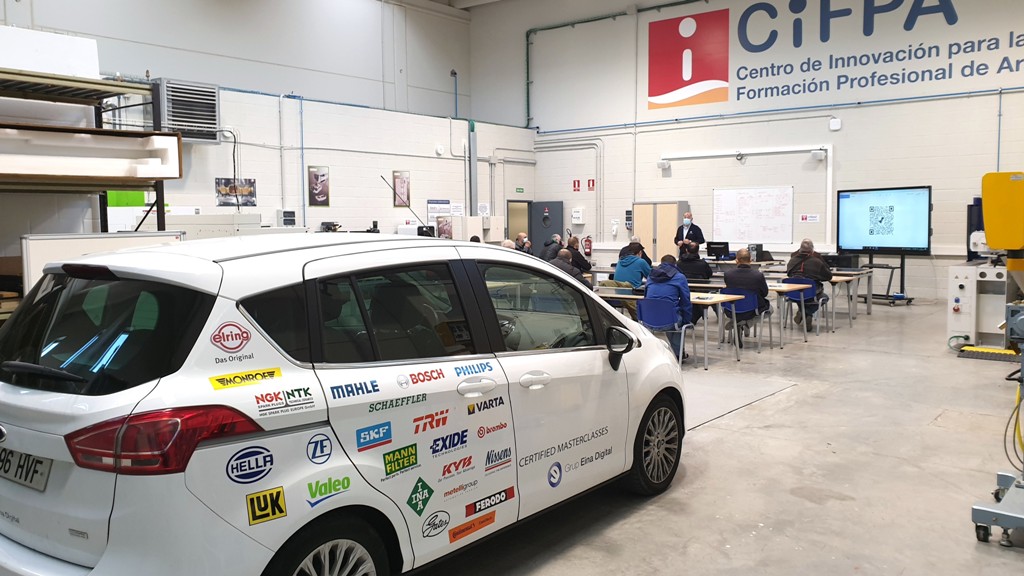 10 Nov

Partnerships for job training with state-of-the-art vehicles

Posted at 10:39am

In

News
Rodi Motor Services, a Catalan company providing comprehensive automotive services, has recently joined the collaboration agreement already established with the Aragonese company Recambios Gran Vía, thus increasing the offer of training for employment and teaching staff at the CIFPA facilities.
This week a new training course for automotive workshop workers was held at the CIFPA facilities, organised by Recambios Gran Vía. The course, "Exhaust gas analysis in petrol direct injection engines", is the last of a calendar of four activities that are being developed throughout 2021 and which has had as its mission, at all times, the updating of professional skills of automotive workshop staff.
In addition to this training, Rodi Motor Services is organising another package of 8 mini-courses, to be held until April 2022. This week's course focuses on the diagnosis of the latest generation of systems, using a Volkswagen Passat 1.4 TSI as the training platform. These mini-courses are also aimed at updating the professional skills of automotive workshop personnel. As a result of the collaboration agreement, a group of teachers from the TMV family are benefiting from this training, thus enabling the transfer of knowledge from leading companies to vocational training centres in Aragon.
Both companies, as a member of the AD Parts group (a specialist in the distribution of automotive spare parts in Spain and Portugal) rely on the services of Grup Eina Digital, which develops and provides the training for this programme.
The alliance established with Recambios Gran Vía is in line with CIFPA's strategy of improving competitiveness through the updating of workers' skills, in which several companies and institutions that participate in this type of action are already involved.