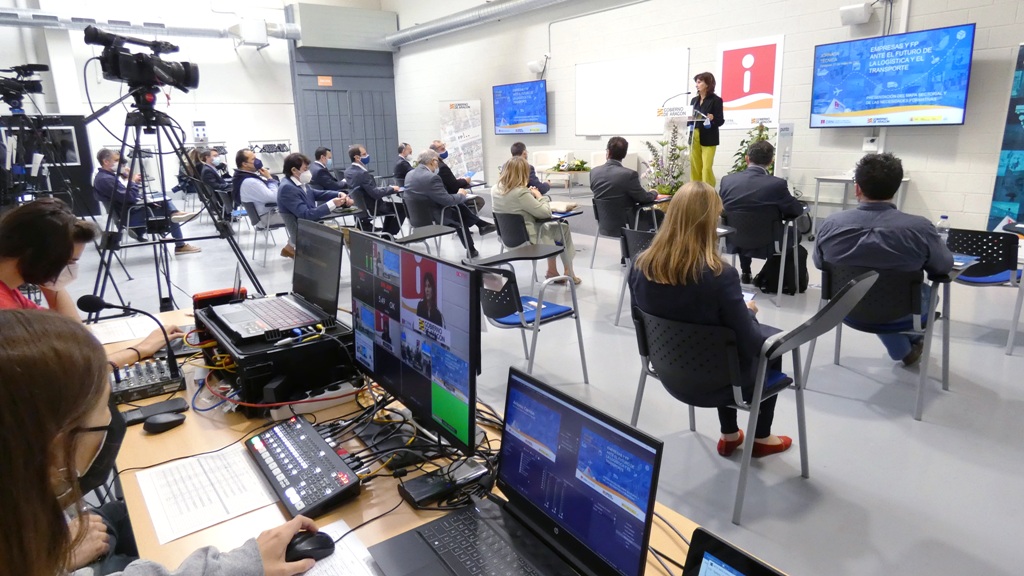 24 May

Conference: Companies and Vocational Training Facing the Future of Logistics and Transport
On 21 May, the conference "Companies and VET in the future of Logistics and Transport" was held in the presence of a representation of companies and organisations from the professional and training fields.
The event brought together companies and organisations from the Logistics and Transport sector, Vocational Training schools where these specialities are taught and the network of national reference centres.
After the opening of the conference by the Director of the National Reference Centre, Antonio Carrión, and the General Director of Innovation and Vocational Training, Toni Martínez, the first act was the presentation of the Sector Map and Training Needs by Pedro Mata, partner of the company Smarpoint.
Afterwards, the president of the Spanish Confederation of Road Transport Business Organisations (CONETRANS) and the Zaragoza Federation of Freight Transport Companies (FETRAZ), Carmelo González, offered a vision of the present and future of the sector. For his part, Ángel Gil, managing director of the Logistics Cluster of Aragon (ALIA) and vice-president of the Spanish Logistics Centre (CEL) gave an exciting overview of the national and European power that logistics and transport in Aragon represent.
After a coffee break in which catering was served by the catering students of IES Miralbueno, the day continued with a round table dedicated to human capital with the participation of the HR managers of Carreras Grupo Logístico and Grupo Sesé, Mª Ángeles Amorós and Rosa Esteban, respectively, together with Fernando Lorente, director of the Professional Qualifications Agency of Aragón.
The meeting ended with the presentation of the FP Emplea platform of the Directorate General for Innovation and Vocational Training and the Training Plan 2021 of the CRN for Commercial Logistics and Transport Management, the organiser of the event.