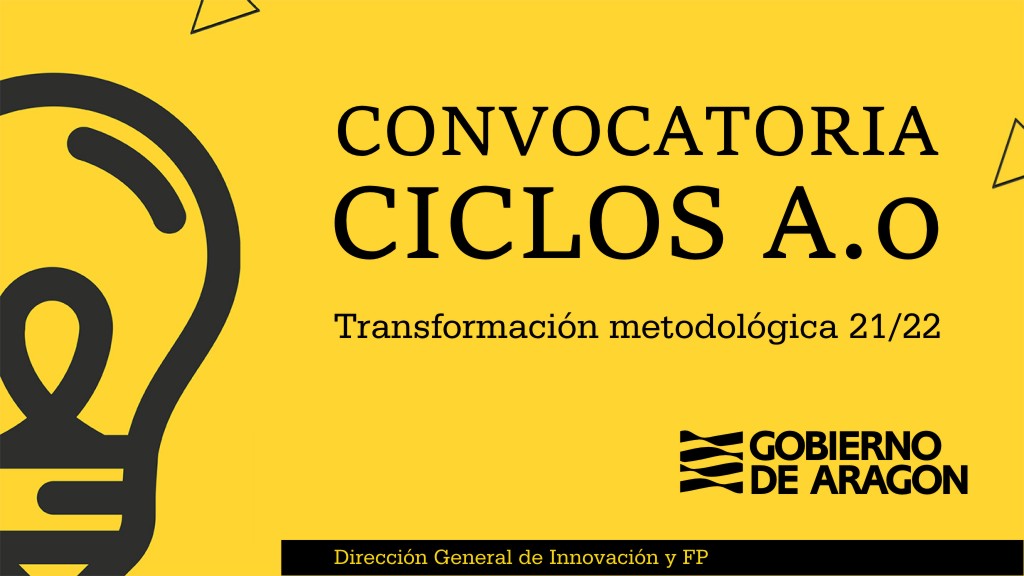 18 Mar

Call for Cycles A.0. Methodological transformation 21/22

Published at 19:04h

In

News
Open call for Ciclos A.0 that promotes the transformation of the training model towards challenge-based collaborative learning
The public schools of Aragon that teach Vocational Training can now submit their applications for the implementation of experimental projects of active methodologies in their cycles. In the Official Gazette of Aragon is published the RESOLUTION of 2 March 2021, the Director General of Innovation and Vocational Training, this call that is part of the Digital Campus A.0.
The deadline for submitting all the required documentation specified in the resolution is 7 May 2021.
The so-called A.0 Cycles, so far 36 implemented in the three provinces of Aragon, are characterized by a methodology based on real challenges overcoming the traditional barriers of professional modules, space and time, following a model adapted to the context of Aragon. As indicated in the call, the teaching teams of these cycles, with the support of companies and entities in their environment, will identify a series of real challenges close to the students, to which they will have to respond. The teaching staff will change their traditional role as teachers of a specific module to that of tutor, guide and facilitator of the challenges, making the students the active protagonist of the learning process. The teaching team will have the capacity to reconfigure the teaching spaces and manage the organization of the time dedicated to each activity.
The training will be flexible, focusing on both technical and transversal skills. The A.0 training model will work on technical skills in anticipation of the digitalization of the sector and its influence on them, but it will not forget the transversal, social or soft skills, already more appreciated today by the labor market.
The call contemplates two modalities of implementation:
a) Mode A: Training cycles in which interdisciplinary work is carried out in two or more professional modules within the same course.
b) Modality B: Training cycles where interdisciplinary work is carried out in a number of professional modules that represent at least 70% of the teaching load of a course of the training cycle. The project is developed during at least three school years.
Within the same centre, there may be training cycles that are included in Mode A and training cycles that are included in Mode B.